The First Warehouse Business Promotion Conference Was Held Successfully
Views:15 Author:Site Editor Publish Time: 2017-05-27 Origin:Site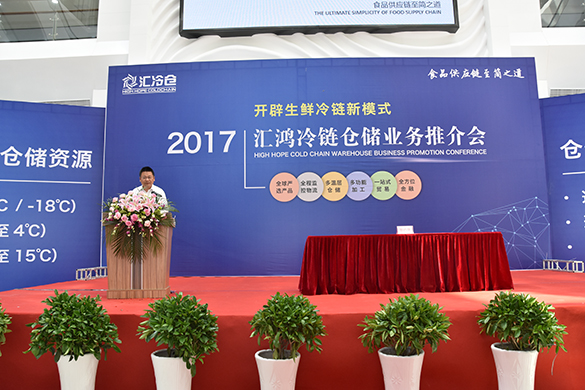 On May 26, 2017, the first High Hope Cold Chain Warehouse Business Promotion Conference was held in the exhibition center. More than 10 fresh food manufacturers from Shanghai, Nanjing, Wuxi, Zhenjiang, Shandong province, and Anhui province are invited to participate in the promotion conference.
The general manager of High Hope Cold Chain, Xin Ji gave a welcoming speech and a brief introduction of the company. Then he made three points to the conference: First, strengthening communication in order to improve understanding, to enhance mutual trust, to promote friendship, and to seize the opportunities of business and development. Second, giving full play to respective advantages of each company, achieving mutual development and win-win cooperation. Third, implementing the cooperation, achieving timely feedback, looking for solutions to the problems arising in the cooperation. High Hope Cold Chain and its partners is going to research the cooperation contents and models, in order to promote their partnership in wider areas.
After watching the introduction video of the company, managers of warehousing business, logistics business, trade and business development departments gave related business promotion speech. Zhao Han, the representative of Zhenjiang Comprehensive Bonded Zone Economc Development Bureau introduced the investment background of New District. Ping Yu, the president of Jiangsu Sheng Hao Supply Chain Management Company made a speech on behalf of the clients of High Hope Cold Chain.
As an importan part of the promotion, the company also signed strategic cooperation agreements with 4 well-known food companies. They also signed formal frozen warehousing business contracts. According to the agreement, these companies will set High Hope Cold Chain as their base of the Yangtze River Delta market. High Hope Cold Chain will provide best quality services to meet their requirements on storage and logistics.