Respresentatives of AQSIQ Visited High Hope Cold Chain
Views:8 Author:Site Editor Publish Time: 2017-10-23 Origin:Site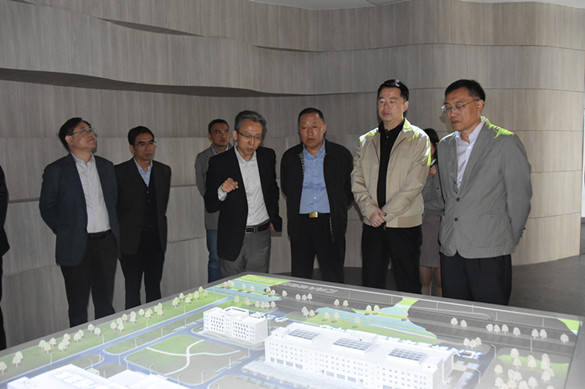 On the morning of October 20th, Han Jianping, deputy director of the International Cooperation Department of AQSIQ, and his party visited High Hope Cold Chain to inspect and guide the construction of exclusive inspection platform for CIQ. Chen shu, vice president of High Hope Group and Chairman of High Hope Cold Chain, Qin Haitao, member of the Standing Committee of Zhenjiang Municipal Committee and Secretary of Party committee, Zhu Lin, Director of Zhenjiang inspection and Quarantine Bureau, and relevant officials were accompanying.
He first represented High Hope Group to welcome Han Jianping and his party, and thanked for the concern and support of the State Quality Inspection Administration ever since a long time ago. He briefly introduced the basic situation of High Hope Group. He said, as Jiangsu's largest provincial foreign trade enterprise and the province's first listing state-owned enterprises, High Hope Group seized the "The Belt and Road" opportunity, closely linked to the supply side structural reform deployment, promoted the transformation and upgrading, innovation and development, and achieved positive results. Cold chain logistics is the key development sector of High Hope Group, by creating an integrated service platform, realize the closed-loop supply chain service of import fresh products from the origin to the table, to become China's first window of the world's fresh food and distribution base.
Han Jianping said, As economic social development and consumption levels continue to rise, people are more concerned with the safety of food products. Cold-chain logistics is an important tool in ensuring the safety of raw produce and food consumption, and important implications for national food safety strategy. The creation of High Hope Cold Chain Logistics Base introduces foreign quality goods to better meet the demand of the people, and is entirely in line with national policy and public demand. The inspection and quarantine departments will carefully implement the country's trade facilitation policies, further standardize and simplify procedures, and promote innovation of supervision mode, to serve for the overall strategy of the foreign trade of the country, and support local Export-oriented industrialization development. He also said that it would take full advantage of the General Administration of Quality Supervision, Inspection and Quarantine to facilitate foreign production of raw produce and the domestic market Support for the company's business development, resource development, etc. .